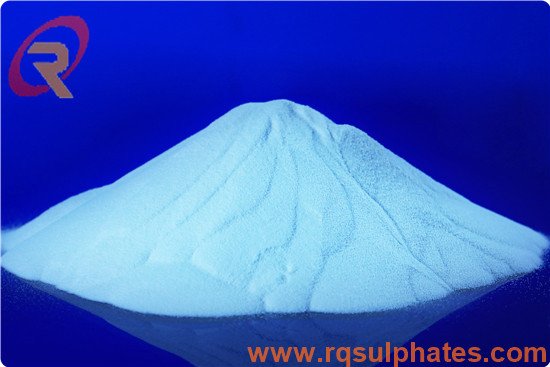 Zinc Sulphate monohydrate
Product Name: Zinc Sulfate Monohydrate GranularMolecular Formula: ZnSO4.H2OEINECS NO: 231-793-3CAS NO : 7446-19-7HS Code : 28332930Product: Zinc Sulfate MonohydrateTest Standard: HG/T 3277-2000Rech Chemical zinc sulfate test result:DescriptionStandardTest ResultZn33% min33.4% minPb10ppm max6.9ppm maxAs5ppm max2.4ppm maxCd10ppm max3.1ppm maxAppli ...
Molecular Formula: ZnSO4.H2O
HS Code : 28332930
Product: Zinc Sulfate Monohydrate
Test Standard: HG/T 3277-2000
Rech Chemical zinc sulfate test result:


| Description | Standard | Test Result |
| --- | --- | --- |
| Zn | 33% min | 33.4% min |
| Pb | 10ppm max | 6.9ppm max |
| As | 5ppm max | 2.4ppm max |
| Cd | 10ppm max | 3.1ppm max |
Zinc sulfate is used as trace element fertilizer to prevent crops from Zn deficiency and increase crop yields. Now more and more farmers apply micronutrient fertilizers such as zinc sulfate.
Zinc sulphate is a kind of important abio-chemical material, which has sorts of function in the industrial field.
Zinc sulfate is mainly used in the production of man-made fibril concretion, and also used as intermediary dyed reagent in the dying field. Besides ,it works as fertilizer and animal feed. Zinc Sulphate functions as activator in the medicine industry. The food grade product can be used as nutritious supplement,etc.
Zinc sulphate is a significant material of zinc compound,dye,lithopone, in-zinc activator, electrolysed zinc, electroplated zinc, and also mucilage glue fibre.In addition, it functions as preserving material of wood and leather.
Zinc sulfate can be used as feed additive to supply trace element, prevent and cure some diseases because of zinc deficiency and prevent premature death. It also can increase appetite, control blood disorders and bone disease.
Net weight 25kgs, 50kgs per each plastic woven bag, or 1000kgs to 1350kgs per each package,or according to client request.
We will arrange shipment from Huangpu and Changsha Port within 15 days after receiving your order.
Related Products